FIFA: semi-automatic offside recognition technology to be used at Qatar World Cup
admin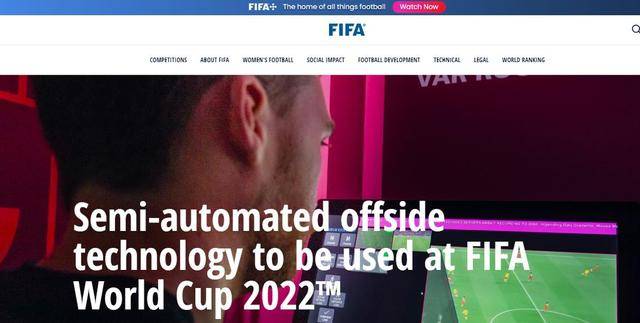 FIFA Day 1 announced that semi-automatic technology (SAOT) will be introduced on offside this January 2022, with offside assisted officiating and video assistant referees (VAR) to be used for correct position penalties.
According to the introduction, the SAOT system consists of three main components: special cameras, in-ball sensors and an artificial intelligence system. During the World Cup, 12 special cameras will be set up on top of each stadium to track the football and each player on the field, sending data at a rate of 50 times per second to accurately determine the position of each player. Qatar's World Cup ball, Al Rihla, will have built-in sensors sending data at a rate of 500 times per second to determine more accurately where the ball is being passed. The data collected by special cameras and sensors inside the ball will be analysed by an artificial intelligence system, which will be able to determine offside situations in just a few seconds.
Once an offside is detected to have occurred, the SAOT system will automatically alert the Video Assistant Referee to assist the VAR in making the judgement, who will then communicate with the on-field referee as appropriate. Once the referee has made the call, SAOT generates a 3D animated image to be shown on the big screen in the field as well as on TV to show more visually the exact position of the player offside.
According to FIFA's Head of Football Technology and Innovation, Holtzmuller, the SAOT system has been tested in tournaments such as the 2021 Arab Cup and the 2021 Club World Cup, with significant results. With this technology, the average time taken by VAR to check for offside has been reduced from 70 seconds to 25 seconds, while 3D animated images give fans the best angle to understand offside calls, resulting in a better viewing experience.
"The introduction of VAR at the 2018 FIFA World Cup in Russia has significantly reduced the probability of major miscarriages of justice. We are confident that semi-automatic offside recognition technology can go one step further at the Qatar World Cup and help referees make the most correct and best calls on the field." FIFA Referee Committee President Corina said in a video interview.
"我有一些人会认为它的伟大之处在于'机器人',事实并非如此,事实技术并非如此。 。场上的裁判和助理裁判负责最后的判罚,所有的技术工具都支持。裁判。
Your comment has been sent successfully. Thanks for comment!
Leave a Comment