Warm-up - New signing breaks through in back-to-back games, Levine duds on debut, Barca edges Real Madrid
admin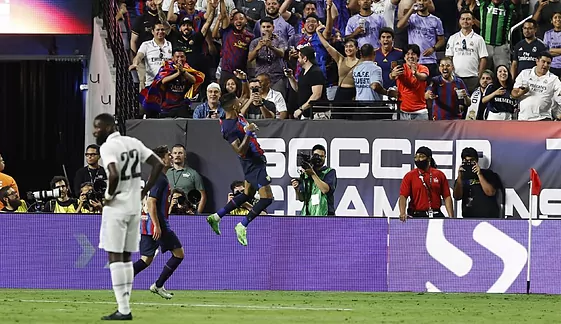 Barcelona beat Real Madrid 1-0 in their pre-season warm-up match for the 2022/23 season, with Rafinha scoring back-to-back goals.
  Valverde's shot from 25 yards hit the left-hand post and bounced back. Camavinga fumbled the ball and Pedri stole the ball and passed it to Fathi, who fired a shot off the right-hand post in front of the penalty area. In the 27th minute, Milidon misplaced a pass and Barca's new signing Rafinha shot into the top right corner from the edge of the box. Rafinha's cross from the left side of the box was blocked by Alaba just in time for Levine to shoot from in front of the box.
Valverde hits the post Valverde hits the post
Faty misses a good chance Faty misses a good chance
Barca 1-0, Rafinha Barca 1-0, Rafinha
Alaba blocks Lewin Alaba blocks Lewin
  Second half. Lucas crosses the ball and Asensio fires a low shot just wide of the far corner in front of the small box. Roberto crosses and Kessie's low shot from 12 yards is saved by Courtois. Before the end, Dembele had two shots from the right side of the box that were parried by Courtois.
Asensio shoots just wide Asensio shoots just wide
Kessie's chance ball is confiscated by CourtoisKessie's chance ball is confiscated by Courtois
Courtois stops Dembele Courtois stops Dembele
Courtois saves again Courtois saves again
  Real Madrid (4-3-3): Courtois; Lucas (69', Odriozola), Militang (62', Vallejo), Rüdiger (46', Mendy), Alaba; Valverde (46', Modric), Chuameni (46', Kroos), Camavinga (46', Casemiro); Rodrigo (69', Ceballos), Hazard (46', Asensio), Venetiau Theo), Vinicius (69',Mariano)
  Barcelona (4-3-3): Ter Stegen (62',Peña); Araujo (62',Dest), Christensen (46',de Jong), García (62',Pique), Alba (46',Valverde); Gave (46',Kessie), Busquets (62',Gonzalez), Pedri (62',Roberto); Rafinha (62',Depay) Levan (46',Aubameyang), Fathi (46',Dembele)
Translated with www.DeepL.com/Translator (free version)
Your comment has been sent successfully. Thanks for comment!
Leave a Comment